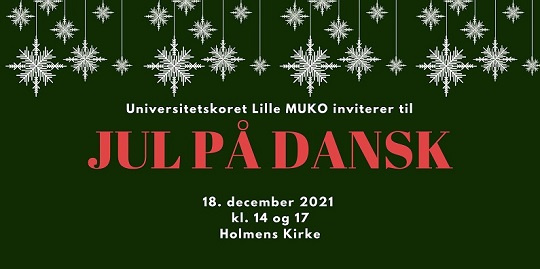 Christmas in Danish - Christmas concerts in the heart of Copenhagen
This year we are pleased to welcome you back to our much celebrated and popular concert "Christmas in Danish". We guarantee a joyous Christmas atmosphere in the great Holmens Kirke in the heart of Copenhagen. Audience, choir, soloists and orchestra meet to share much loved Danish Christmas music, mainly as we know it, but the programme is also spiced up with a few surprises.

This year we proudly present our two soloists Royal Opera soprano Sofie Elkjær Jensen and pricewinning tenor Magnus Vigilius.

The singers will be accompanied by the brilliant musicians Jakob Lorentzen, organ player at Holmens Kirke, Eva Østergaard and Nikolaj von Scholten on flutes and Tine Rehling on harp.

Conductor will be Ole Faurschou.

Tickets 195 kr per person from 10 y.o. Children younger than 10 free admittance. If you read Danish, you may wish to receive our newsletter. If you sign up, you can get a discount when you buy tickets. The concerts are usually sold out during pre-sale, so don´t hesitate!

Please note, that you must have a valid corona passport to enter the church, according to the general Danish rules.

Click here for purchasing tickets

Last updated on the .