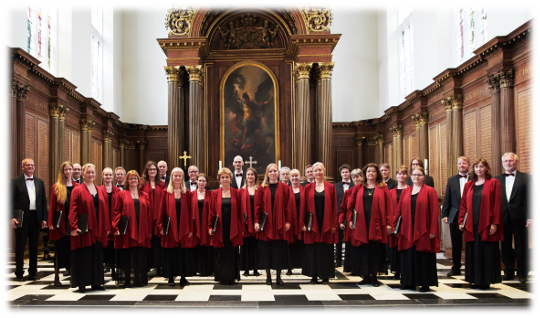 Classical choir in Copenhagen - The University Choir Lille MUKO
The University Choir Lille MUKO is a classical choir based in Copenhagen. The choir is associated with the University of Copenhagen, where it frequently performs at official events.

Lille MUKO consists of current and former music students and other qualified singers. The composition of young, talented music students and more experienced singers is a major contributing factor to the choir being able to stay in the Danish choral elite since its inception in 1967, and that it always has been able to offer a musically stimulating and socially attractive environment for singers.

Equally important is the fact that through the years, Lille MUKO has only had five conductors, all of whom have belonged to their generation's leading Danish choral conductors: Poul Jørgensen, Tamás Vetö, Kaare Hansen, Jesper Grove Jørgensen and Ole Faurschou. This continuity in the musical leadership has ensured that the choir has always retained the expression and tone that it is renowned for.

Lille MUKO's trademark is the interpretation of Danish songs and hymns. Furthermore, romantic choral music and new choral music have high priority for the choir, that has often participated in premieres of contemporary Danish composers' works. Lille MUKO has also performed many of the major choral and orchestral works in collaboration with professional Danish orchestras, and since its inception the choir has participated in a host of competitions and tours all over the world, from which it has brought home several esteemed prizes.

Over the years, Lille MUKO has published a large number of CDs that reflect the choir's varied repertoire and are regularly played on Danish radio. Three of these have received special attention after being nominated for a Danish Grammy.

Lille MUKO seeks to explore classical music in many different contexts, but a cappella concerts have the highest priority for the choir, that enjoys putting together varied concert programmes with music of different natures - always with the delivery of a meaningful concert experience at a high musical level.


Conductors of the choir
1967 - 1979: Poul Jørgensen
1979 - 1981: Tamás Vetö
1981 - 1984: Kaare Hansen
1985 - 2019: Jesper Grove Jørgensen
since 2020: Ole Faurschou


Chairmen of the choir
1967 - unknown: No specific chairman when the choir started
unknown - unknown: Torben Hendriksen
unknown - 1976: Kaare Hansen
1976 - 1981: Bent Grønholdt
1981 - 1983: Triumvirate (Margit Hansen, Stefan Haugland and Thomas Dahlberg)
1983 - 1984: Pia Mia Gruwier Larsen
1984 - 1985: Rikke Henriksen
1985 - 1989: Inger Sørensen
1989 - 1990: Else Thomasen
1990 - 1992: Hans Henrik Balslev
1992 - 1993: Sisi Cohrt
1993 - 1995: Svend Ulstrup
1995 - 1997: Else Torp (Schröder)
1997 - 1998: Helene Nørgaard Valgreen
1998 - 2001: Tine Theilmann
2001 - 2004: Anders Kornerup
2004 - 2005: Ingrid Kjær Nielsen
2005 - 2007: Thomas Petersen
2008 - 2011: Svend Ulstrup
2011 - 2014: Rune Nielsen
2014 - 2018: Kristine Meno Høgh
2018 - 2019: Kirstine Thormann
since 2019: Mette Kristensen

Some of the data prior to 1983 are unfortunately uncertain or missing. If you happen to have information, that can help us make the list more complete or precise, feel free to send us an email at .


Honorary members of the choir
The honorary members of the choir have had a great importance to the choir, either due to their tireless work to the choir's benefit or through many years of faithful membership, making an extraordinary contribution to the choir's cohesiveness.

Niels Schiørring
Poul Jørgensen (conductor 1967 - 1979)
Henrik Glahn
Jan Maegaard
Bent Grønholdt (singer 1974 - 1999, chairman 1976 - 1981)
Boye Kærgaard Jensen (singer 1986 - 2011)
Jesper Grove Jørgensen (singer 1967 - 1974, conductor 1985 - 2019)
Keld Højgaard Mønnike (singer 1985 - 2020)